Custom Printed Overlays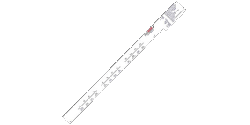 Keyboard Overlay 1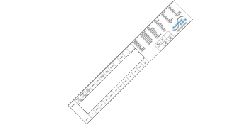 Keyboard Overlay 2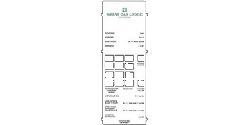 Keyboard Overlay 3
These custom printed keyboard overlays are perfect for software designers, hotels, and office supply manufacturers. This one size is 16.875" x 1.5" x .030". Need a different kind of item? Check out the Catalog.
We have various customized Keyboard overlays available for custom printing. This one is 17" x 3" x .030" and has an imprint area of 2.625" x 1". It is a great promotional item and functional tool for any one who uses a computer.
Answering phones a lot? Custom print some Telephone overlays, so you do not get confused with important calls. Print on instructions, and has empty cut out spaces for the number pads. This one is 3.125" x 8.75" x .030". Great advertising item for hotels and motels.
These communication templates may be a big help to your business too.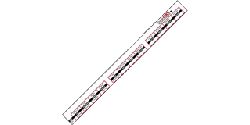 Keyboard Overlay 4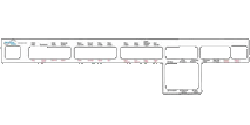 Keyboard Overlay 5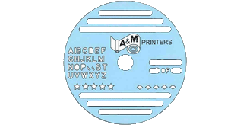 Compact Disc Labeler
Another promotional Keyboard overlay with a size of 10.25" x .75" x . 030". Has imprinting space of 10" x .25" to fit your logo and message on there. These can be customized for any computer program you need it for, just give us a call to ask how.
Custom printed Keyboard overlays are a great advertising method to use. this particular one is 18.25" x 4" x .030". Has extra slot for any extra key you need it for.
With a 4.75" diameter these personalized CD Labelers are sure to fit any CD. Label all your CDs with ease and your logo and message to promote the CD. Need a different kind of item? Check out the Catalog.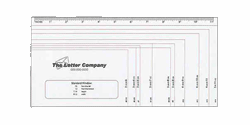 Envelope Guide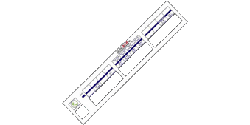 Keyboard Overlay 8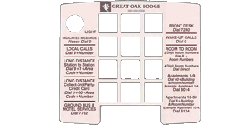 Keyboard Overlay 9
Make your envelopes look great and professional with this custom imprinted envelope guide. Has guide son where to place the words for an address, and also a ruler for your ease. It is 5.5" x 11.5" x .030".
This last imprinted keyboard overlay is 11.25" x 2.5" x .030" and has imprinting space of 11.25" x .25". Customize it to your liking and promote any company with it.
Is the office looking disorganized, well use these office layout templates to reorganize it.
Work with phones? Then we have the perfect promotional and functional item for you here. These custom printed telephone overlay is 4" x 3.5" x .030" and is the standard overlays you see on a hotel phone.
Have questions about our custom printed Overlays? Maybe you don't see what you like, we have much more to offer. Give one of our friendly customer representatives a call at 800 915 3535. You can also email us. You could also get one of our catalogs to see the various items we offer, fill out the short form below.
OVERLAYS


Pricing
250
500
1000
2500
5000
Keyboard Overlay 1 16.875" x 1.5" x .030"
Imprint Area 2.75" x .875"
$3.04
$2.07
$1.71
$1.50
$1.38
Keyboard Overlay 2 17" x 3" x .030"
Imprint Area 2.625" x 1.125"
$3.43
$2.40
$2.02
$1.78
$1.67
Telephone Overlay 3 3.125" x 8.75" x .030"
Imprint Area 2.5" x 1.75"
$3.45
$2.42
$2.04
$1.82
$1.71
Keyboard Overlay 4 10.25" x .75" x .030"
Imprint Area 10" x .25"
$1.83
$1.01
$0.77
$0.62
$0.57
Keyboard Overlay 5 18.25" x 4" x .030"
Imprint Area 6" x .375"
$4.40
$3.26
$2.84
$2.59
$2.46
Keyboard Overlay 8 11.25" x 2.5" x .030"
Imprint Area 11.25" x .25"
$2.60
$1.69
$1.32
$1.12
$1.03
Telephone Overlay 9 4" x 3.5" x .030"
Imprint Area 1.75" x .25"
$2.48
$1.56
$1.21
$1.01
$0.92
Compact Disc Labeler
-
-
-
-
-
Envelope Guide 5.5" x 11.5" x .030"
Imprint Area 4.75" x 1.125"
$2.90
$2.11
$1.83
$1.65
$1.58
Minimum Quantity: 250
Production time: 10 Working Days
More Wheel Calculators